Perhaps the most critical component of success for any organization is establishing a clear understanding of its constituents — knowing who they are, what they care about, where and how to engage them, and what message will best resonate with them.
This is especially true for nonprofits aiming to maximize the effectiveness of limited resources. With the bulk of their contributions driven by existing donors, and the cost of acquiring a new donor estimated to be ten times that of retaining an existing donor, a nonprofit's greatest impact will be through cultivating their relationships with existing constituents.
To further that goal, nonprofits have invested in prospect research, wealth screening tools, analytics, and CRM. Many also employ increasingly sophisticated data analysis, including machine-learning propensity modeling, to generate deeper insights from their existing data.
Unfortunately, organizations continue to find themselves stymied with data issues. Multiple databases and generally stale data are common. Organizations may have gift officers and individual teams maintaining separate spreadsheets, financial systems that aren't integrated to CRMs, or donor databases that don't incorporate a school or university's newest students. As a result of these and other conditions, despite their considerable efforts, many organizations still find that achieving a complete view of their constituents to be an elusive goal.
Introducing Data Link
It is for this reason that Windfall recently launched its newest solution, Data Link. By helping address the challenges posed by disparate and duplicate data, Data Link provides organizations a holistic view of their constituents to serve as the foundation for their data-driven fundraising strategies. In this post, we'll explore Data Link in more detail, including:
The challenges of disparate and duplicate data
How Data Link assists nonprofits in overcoming these challenges
What benefits organizations can realize through Data Link
---
The challenge of disparate and duplicate data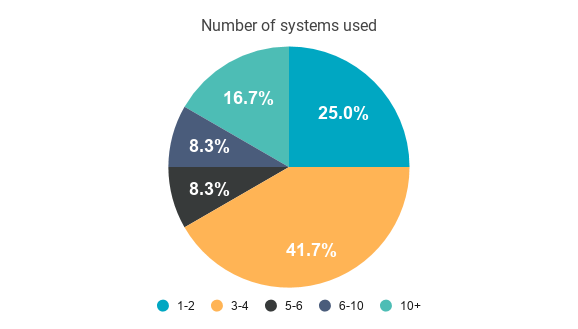 A significant challenge nonprofits encounter when attempting to create a unified view of their constituents is the siloing of constituent data across multiple systems of record. As organizations mature or grow in size and complexity, they inevitably accumulate data across a range of sources. In a recent survey, 75% of fundraising professionals indicated they use 3 or more systems, and about 1/3 use more than 5. There is a wide range of reasons why this is the case. A few examples that we commonly see include:
Healthcare organizations with separate databases for patient data and donor data and larger networks with multiple geographical locations, each with their own set of donors and patients.
Higher education institutions with multiple schools/colleges, departments, or groups (e.g. athletics departments) that maintain their own records and separate relationships with overlapping segments of the student body, alumni, and supporters.
Nonprofits such as the arts, museums, or zoos may maintain different systems to support different activities & engagements, such as ticketing, newsletters, or membership rolls.
National organizations with individual chapters that have different levels of affiliation and coordination but each maintain their own set of databases.
Organizations that have historically not had a very disciplined data strategy and have stored their data across a variety of spreadsheets or are in the midst of transition between different systems.
In these cases, each system contains data that could contribute to creating more complete donor and prospect profiles. Unfortunately, every additional data source also adds tremendous complexity to cleaning, normalizing, and applying the logic necessary to link those data sets and prepare them for analysis. Without a way to properly link and deduplicate data across systems, organizations are left with a fragmented view of their donors and prospects with significant implications for fundraising effectiveness, including:
Undermining analysis: No matter how sophisticated the analysis an organization employs, if the underlying data is unreliable, it will produce misleading results. You can imagine, for instance, a large number of duplicate records or records missing key attributes can greatly skew the results of a wealth screening or predictive data model. Those results can set a nonprofit on the wrong course, leading to diminished results, wasted resources, and missed opportunities.
Creating hidden work: Organizations aren't blind to the importance of having robust and trustworthy data, so they can expend tremendous effort manually deduplicating data. While this might take the form of a big project undertaken by a single individual or team, it's most often incorporated throughout the processes of an organization.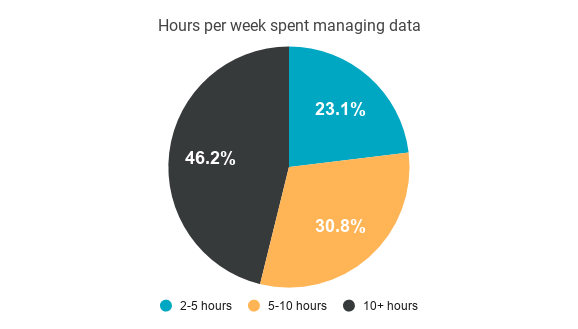 Close to half of respondents to our webinar survey indicated they spend over 10 hours per week on data management.Multiplied across a few individuals results in thousands of hours lost per year that could have been spent on revenue-generating activities.
---
How Data Link Builds a System of Truth
To overcome the challenges of disparate data and deliver a 360-degree view of an organization's constituents, Data Link applies sophisticated algorithms to your disparate data sources to quickly and reliably match duplicate records. Additionally, Data Link incorporates a few key features that address many of the issues inherent with existing approaches to deduplication.
Designed for Multiple Databases & Data Types
Current approaches often focus on deduplicating data within a single system (e.g. CRM) or single platform. While that does address the ability to link data to an extent, as most CRM admins will tell you, it doesn't completely solve the issue of duplicate data. Further, as discussed above, there are many reasons why data may continue to be decentralized. No single platform will address all the needs of an organization, and it's exceedingly difficult to completely standardize across teams (let alone departments or sub/peer organizations), especially when their priority is acquiring a best-of-breed solution for the task at-hand. Data Link is platform-agnostic and can match data across a spectrum of data sources, from spreadsheets to CRM and everything in-between.
Best-in-Class Machine Learning Matching
When matching and deduplicating individual records, it can seem simple for someone familiar with the data to intuitively decide when a record is a duplicate and which values are more accurate. Obviously this approach does not scale. Yet completely automating the process across multiple data sources and millions of records can also be problematic, as errors in the matching process can have a correspondingly large downstream impact.
With Data Link applying best-in-class machine learning algorithms, customers can link all their data with confidence, controlling how and when they deduplicate records by leveraging a match confidence score. Further, record matching with Data Link is greatly enhanced with wealth screening, providing Windfall's data as a 3rd-party source to validate the customer's data and fill in any gaps that could facilitate deduplication.
Built for Scale: Pricing is NOT Based on Number of Records
Purpose-built deduplication solutions can be cost-prohibitive, since they are typically volume-based by both the total number of records or the frequency of processing. This disincentivizes organizations from deduplicating and linking all their data and forces them to choose which sets of data and which segments of constituents might be important to examine before having the context to truly know their value.
For organizations to be able to uncover hidden opportunities within their data, they need a solution that can easily scale to encompass the entirety of their data and do so on a continual basis. Data Link provides ongoing value by giving organizations the ability to quickly deduplicate and link millions of records at whatever cadence makes sense for their organization, ensuring you always have full visibility of your constituents.
---
A Foundation for Innovation
After successfully joining their disparate data in a consistent and reliable manner, an organization benefits in many ways. Of course, deduplication can help reduce storage costs, and automating the process can eliminate hours of manual work and human error. But more importantly, the organization now has a system of truth as a foundation to support all other activities. The teams that rely on that data can have greater confidence in its trustworthiness in guiding their strategies. More complete profiles of constituents can better inform marketing and development teams as to the best approach and message to maximize contributions.
A unified set of data can generate better wealth screening results, increasing the likelihood of uncovering hidden gems within an organization's constituent base. Imagine a university that consistently links data across colleges and graduate schools being able to identify segments of previously-overlooked alumni that are in fact high-net-worth professionals making generous contributions to their graduate schools, while making only modest donations to the university.
A more complete, clean, and deduplicated dataset improves any analysis made on that data. Instead of spending time trying to manage the data themselves, nonprofits can embark on their own advanced analysis with greater precision. A broader foundation of constituent data also necessarily improves the performance of propensity models, which benefit from having more complete and accurate data points to correlate.
Providence Health: Creating A Holistic Picture Across the Enterprise
This is exactly what one of Windfall's customers is seeing. Providence St Joseph Health, which is at the forefront utilizing machine learning to more accurately diagnose in the clinical setting, thoroughly understands the power of data. They have already realized the benefits of applying similar data science techniques via propensity modeling to their fundraising efforts, resulting in an increase in high-propensity patients identified for outreach.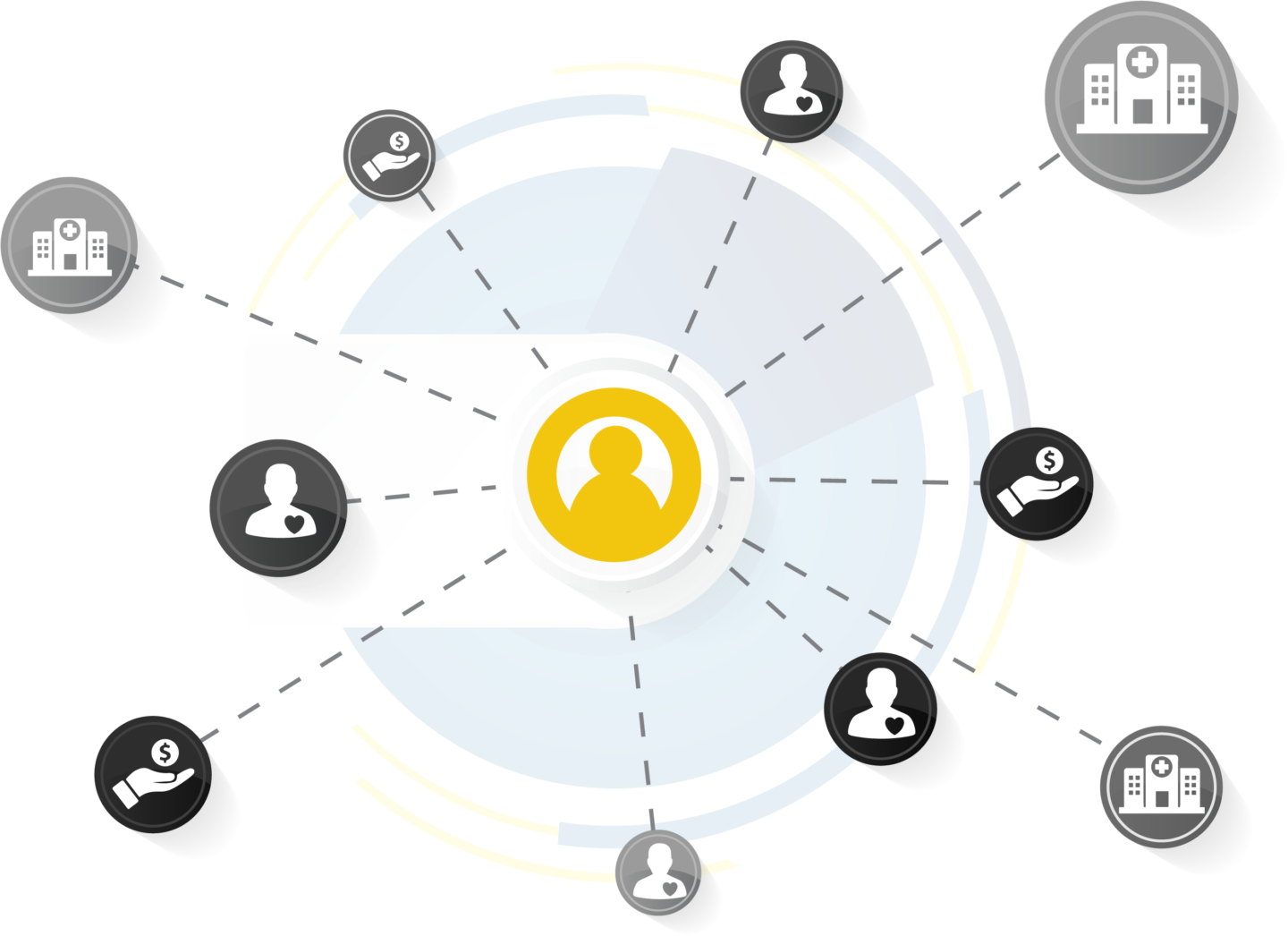 Likewise, centralizing data across the organization presents new opportunities to further expand Providence's data capabilities. As Regional Director of Grateful Patient Philanthropy, Tim Gale noted,
"We have several locations with hundreds of thousands of records housed in multiple systems… Windfall's ability to link patient and donor data with precision bridges the gap to create a holistic picture across the enterprise. Ultimately, it will enable us to build our 360 view of our grateful patient program, driving significant value to the broader organizations."
Rather than investing resources in data deduplication, Providence is generating valuable insights and is able to look holistically across the organization to enhance experiences and performance. Furthermore, they can now explore novel analyses, such as comparing propensity scores across multiple geographic locations.
Conclusion
Getting a holistic view of your constituents is the next logical step in taking a data-driven approach to fundraising. Deduplicating and linking your data is an opportunity to make the most of the data you already have and maximize the relationships your organization already cultivates. Not only can it be a low-cost investment, but it will likely save your organization resources at a critical moment. More importantly, at every level, whether through more accurate propensity modeling or formulating more informed outreach, it's also likely to yield greater outcomes.
---
Data Link Resources
Learn how your organization can benefit from a unified view of your constituents with the resources below:
---
This article was authored by Patrick Cava, VP Marketing at Windfall.