At Windfall, our mission is to determine the net worth of every person on the planet. While this bold mission is an ambitious one, we have focused our energies and efforts on the US. Specifically, we have pioneered modern wealth intelligence focusing on affluent or high net worth ("HNW") households above $1 million in net worth.
The pandemic and economic turmoil of 2020 had many of our customers and prospects ask the same question:
How has wealth changed since the beginning of the pandemic?
This is a loaded question since it encompasses many other questions: Did wealth leave urban areas? How are wealthy people spending their money? Will they be spending their money on my category? Plus many more…
Windfall approached this question by turning to its own data and results with customers. We hosted a webinar in December 2020 to capture our findings. Specifically, we looked at:
Macroeconomic Luxury Trends
Windfall Wealth insights
Creating a Data-Driven Framework for Maximizing Success
Customer Spotlight: StraightLine Private Air
In our post below, we've summarized several of the key themes that we reviewed on the webinar.
Macroeconomic Luxury Trends
Over the past several quarters, economists have debated our potential recovery with a multitude of scenarios. We've highlighted a few below: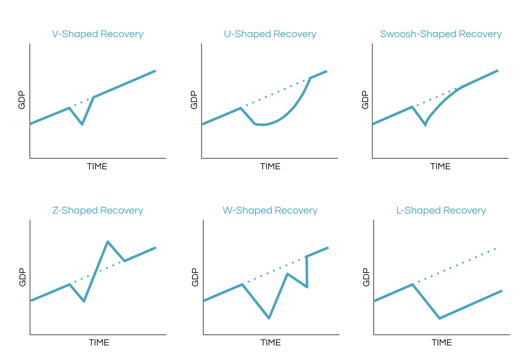 As the pandemic continues and there is hope for a speedy recovery with vaccinations on the way, we still do not know what path the economy will take. This also contemplates the entire US economy and is not necessarily focused specifically on the luxury market. In order to dig in deeper, our team looked at the S&P Global Luxury Index.
The S&P Global Luxury Index encompasses 80 of the largest publicly-traded companies engaged in the production or distribution of luxury goods or the provision of luxury services that meet specific investability requirements. While it's not perfect, we wanted to analyze if this index looks similar to the S&P 500 or showcased different trends: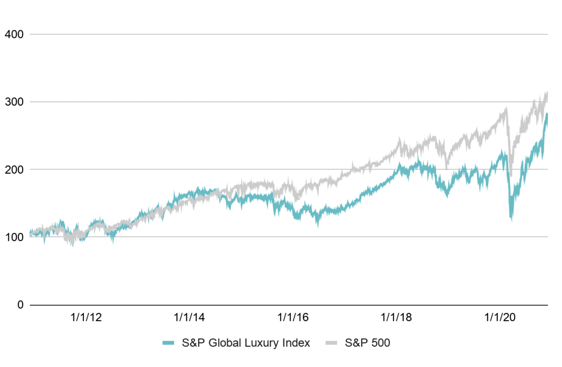 At first glance, it appears that the S&P Luxury Index and S&P 500 follow similar paths, especially for the past few years. To ensure that we didn't make assumptions, our team looked at the year-over-year change and confirmed that generally speaking, we see that the S&P 500 tends to beat the S&P Luxury Index: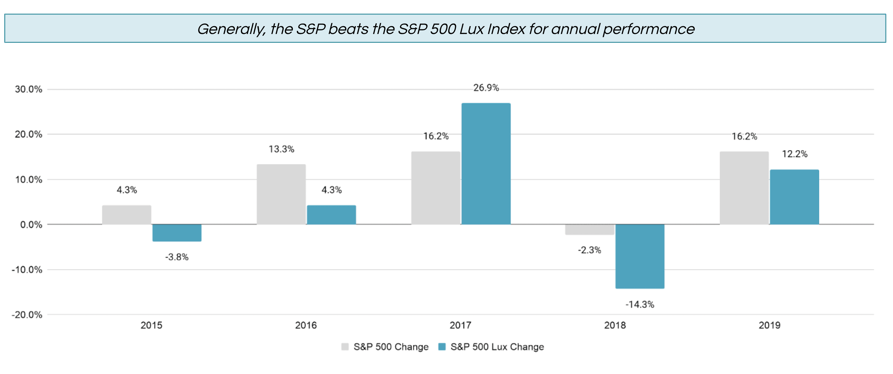 We now have a baseline trend that we can use to evaluate the S&P Luxury Index's recent performance.. Does it hold? How does it differ, if at all? Zooming into the last few months of 2020 can demonstrate how the S&P Luxury Index has surpassed the S&P 500: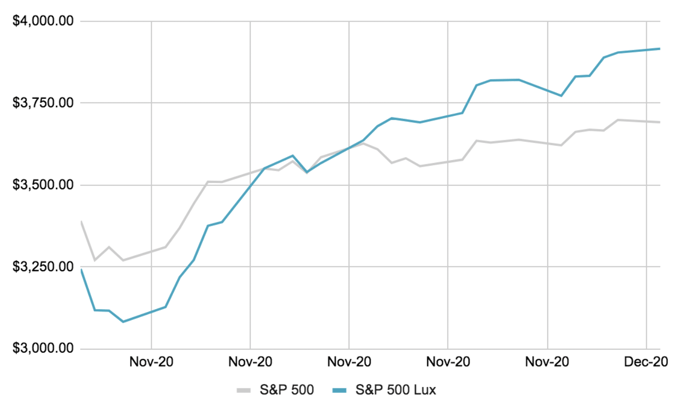 The S&P Luxury Index has actually dramatically exceeded the S&P 500. While the Luxury Index felt a more dramatic impact of COVID-19 pullback earlier in the year, it has significantly outpaced the S&P 500 later in 2020:

The impressive results actually lead to more questions: why are luxury-oriented companies performing better than the broader index? What is different about this economic recession for the luxury sector?
Check out our webinar for a deeper analysis on how the retail, hospitality, and financial services industries have performed in 2020.
Windfall Wealth Insights
Windfall refreshes its data on a weekly cadence, which provides us and our clients the unique ability to understand how wealth has changed over time. A look at our data shows the economic impact of the pandemic certainly has impacted HNW households less than the entire economy. In fact, HNW households have increased their proportion of wealth during the last 9 months. While there was a larger economic impact at the onset of the pandemic, HNW households tend to hold positions that easily transitioned to work-from-home and may be saving more cash since they are unable to go on vacations, shop at their normal stores, etc.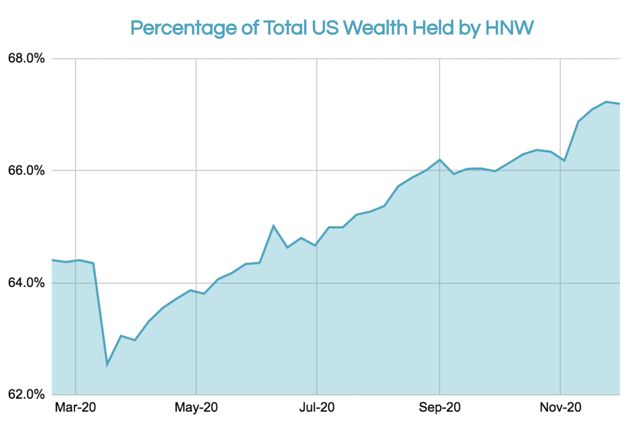 Windfall's unique wealth intelligence shows::
13.3% increase in HNW households
17.7% increase in total wealth held by HNW households
~67% of US wealth is held by HNW households
This means that not only was the number of HNW households growing during the pandemic, but they grew their wealth by a disproportionate amount versus non-HNW households. Returning to our questions from the introduction: where is the wealth shifting? Are urban areas really seeing a mass exodus given the pandemic?
Windfall analyzed the change in HNW from March 11, 2020 until December 10, 2020 to help answer this question. Orange indicates a loss in HNW households while blue highlights the counties with a higher increase in HNW households.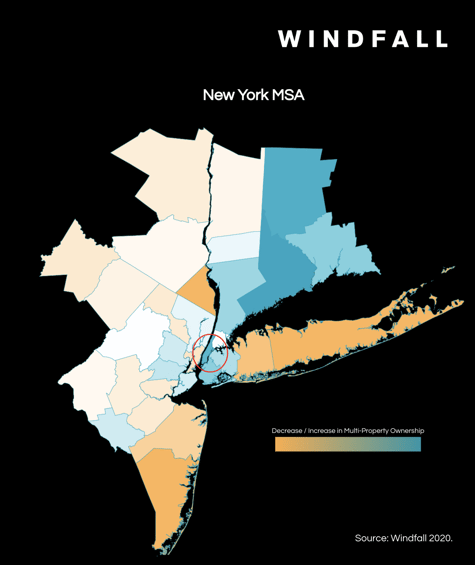 The red circles indicate major MSAs (Metropolitan Statistical Areas) like: New York City, San Francisco, Washington D.C., etc. The key takeaway: wealth has still increased in major MSAs. That being said, we would expect in "normal" times that these urban areas would be darker blue. Certainly, wealth has shifted across the country but since HNW households increased holistically, the impact is slightly muted.
Watch our webinar for a deeper dive into New York City, which we examined to illustrate the macro changes in the MSA and micro changes at a county level to uncover insights that may help organizations better understand the shift in wealth. This wealth intelligence could help inform strategy or plans as consumer behavior and lifestyles will certainly change over the next 12-24 months.
Our last wealth insight is how states differ in relative wealth, which we go into much more detail in a separate post: What it takes to be the top 1% in every state. Many of our customers focus on trying to identify the most affluent individuals; however, we remind them that each state is relative (Windfall even provides metro rankings). We've visualized the relative wealth to illustrate how states compare: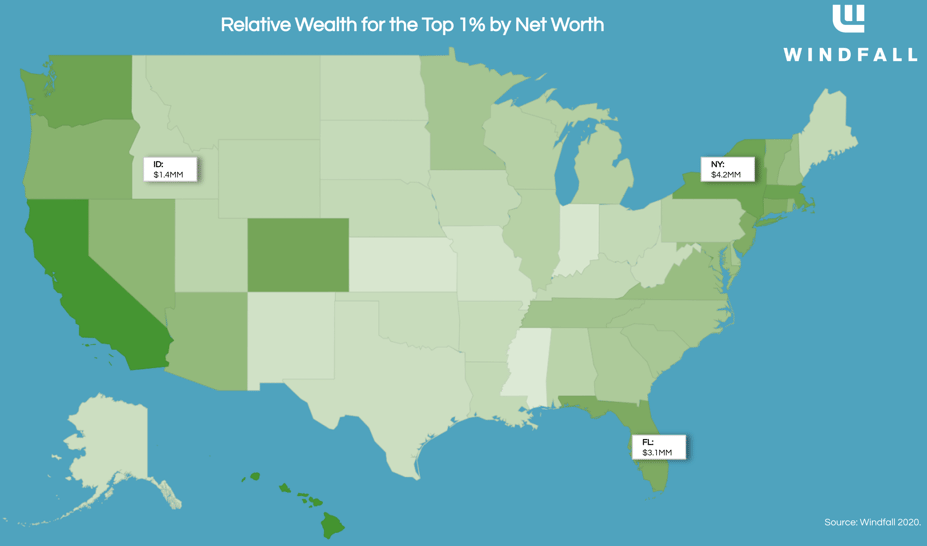 For data-driven organizations, this means gaining context around your database is imperative for critical decisions ranging from: marketing to prospects, geographical segmentation, or overall corporate strategy.
Customer Spotlight: StraightLine Private Air
During our webinar, we were lucky to be joined by Tom Filippini, CEO & Founder of StraightLine Private Air and the founder of Exclusive Resorts. StraightLine Private Air provides membership-based private aviation programs as an alternative to traditional aviation solutions. The tailwinds of the pandemic helped StraightLine as many HNW households sought out safe travel options, including private aviation.
Windfall has been working with StraightLine Private Air for several years and what we appreciate from their lean and nimble team is their approach of adopting Windfall's data-driven system, where Tom and their team value making strategic decisions with the freshest intelligence available. Windfall always speaks about a 5 step process with our prospects or customers:
Establish a foundation of trustworthy data
Develop meaningful insights about your customers/prospects
Generate deeper intelligence from your data by leveraging machine learning / data science
Take action on your data across the organization
Analyze and measure results and iterate
This process is not a silver bullet that occurs overnight. StraightLine recognized this early on that this was NOT a short-term strategy, but their organization needed to test, learn, and iterate. The results of our collaboration speak for themselves; Straightline has seen the following:
2.5x lead conversion rate
37% higher revenue per customer based on initial deposits
20x more wealth generated after one-year engagement
StraightLine was able to accomplish all of this without significant additional marketing spend. Make sure to listen to the full webinar to hear more from Tom, including insights on how they were able to execute and improve their strategies by leveraging high fidelity wealth data.
Conclusion
COVID-19 and the pandemic has significantly impacted all of us around the country. The luxury market was and is not immune to these economic conditions, but unlike prior recessions, the current economic climate enabled HNW households to increase their wealth over the past 10 months.
As we've seen with macroeconomic indices and trends, the luxury market is primed to capture significant value with the new wealth creation; however, it is not a uniform problem. There are pockets of wealth across the country and it's critical to understand how this has and will fluctuate over the next 12-24 months. Leveraging modern wealth intelligence to make decisions with context will be critical moving into 2021.
***
This article was authored by Arup Banerjee, CEO and Co-founder of Windfall based on his presentation The State of the Luxury Market webinar presented on December 9, 2020.
About Windfall:
Windfall helps you identify, understand, and engage the affluent. We provide you with precise net worth data on affluent US households, allowing you to make informed data-driven decisions.
For more information about Windfall please visit our website: http://www.windfalldata.com.