At APRA's 2021 Prospect Development Conference, Arup Banerjee, Windfall's CEO & Co-founder, shared on the current state of consumer wealth and how to engage with the high-net-worth population. To help development professionals understand affluent donors in 2021, we covered:
Macroeconomic Trends Related to Luxury Goods and Services
Consumer Wealth Trends
Creating a Data-Driven Engagement Framework for High-Net-Worth Individuals
How Windfall's Customers Have Applied Our Data and Modeling
Windfall is uniquely equipped to handle these topics; our mission is to help organizations better identify, understand, and engage the affluent. We provide precise net worth data on affluent households, which we define as having more than $1 million in net worth. Unlike legacy data vendors, which tend to be less than 50% accurate and refresh their data infrequently, Windfall uses proprietary machine learning algorithms to accurately calculate net worth and refreshes our underlying data every week.
In this post, we've summarized the most important themes from this webinar.
Macroeconomic Trends Related to Luxury Goods and Services
To truly understand affluent individuals and changes in consumer wealth, our team looked at macroeconomic trends in addition to our own wealth data. In our macroeconomic analysis, we evaluated industries that are popular with high-net-worth individuals: luxury, hospitality, and finance.
The luxury market lost value in 2020, but the S&P Global Luxury Index, which includes 80 of the largest publicly traded luxury goods and services companies, outperformed the S&P 500, growing 31% vs 12.3%. Although luxury took a hit in 2020, investors clearly anticipate a robust rebound for luxury in 2021 and beyond.

Another bright spot is the hospitality industry, which is experiencing a boom after a slump in Q2 2020. For instance, short-term rental occupancy levels are 400% higher than they were at the same time in 2020 and 50% higher compared to 2019.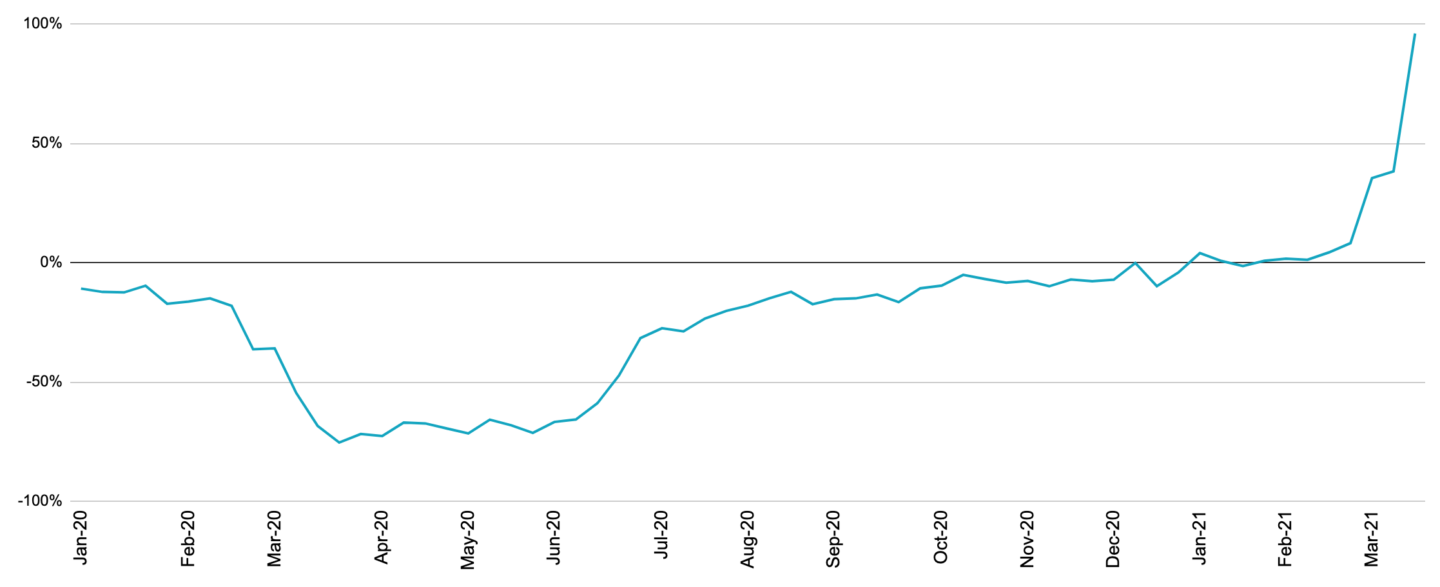 On the other hand, when it comes to financial services, the outlook is mixed. While investor sentiment was positive in late 2020, it turned bearish in Q2 of 2021. But this obviously doesn't tell the whole story. For instance, alternative investments were flat in 2020, but we've seen growth in this marketplace in the last 6 months and we anticipate considerable growth in this sector over the next few years.

Consumer Wealth Trends from Windfall
While the outlook for these industries tends to be positive, there are still unanswered questions for nonprofits. Which of these consumers is bullish? How can nonprofits tap into this accumulated wealth? Where should they focus their energy and efforts? To answer these questions, Windfall looked at our own wealth data.
Because we refresh our data on a weekly cadence, we have the unique ability to understand how wealth has changed over time. In this case, our data indicates that, since March of 2020, affluent households actually amassed even more wealth compared to previous recessions. Specifically, Windfall's unique wealth intelligence shows the following changes over the past 16 months:
24.2% increase in HNW households
30.8% increase in total wealth held by HNW households
~68% of US wealth is held by HNW households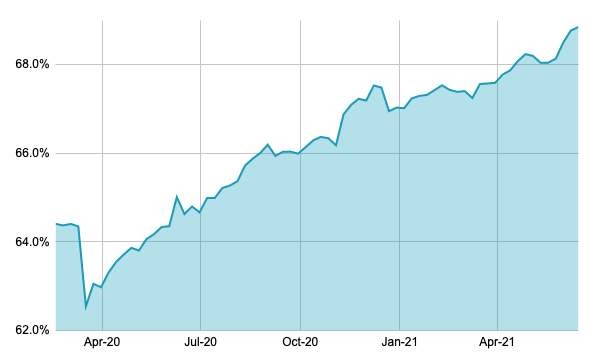 To better understand where wealth is being accumulated in the US, we analyzed changes in wealth by each county. While most counties in the US actually saw wealth creation from May to December of 2020, the trend is changing. Wealth has actually decreased in many counties in 2021.
Changes in Wealth across the US: 2021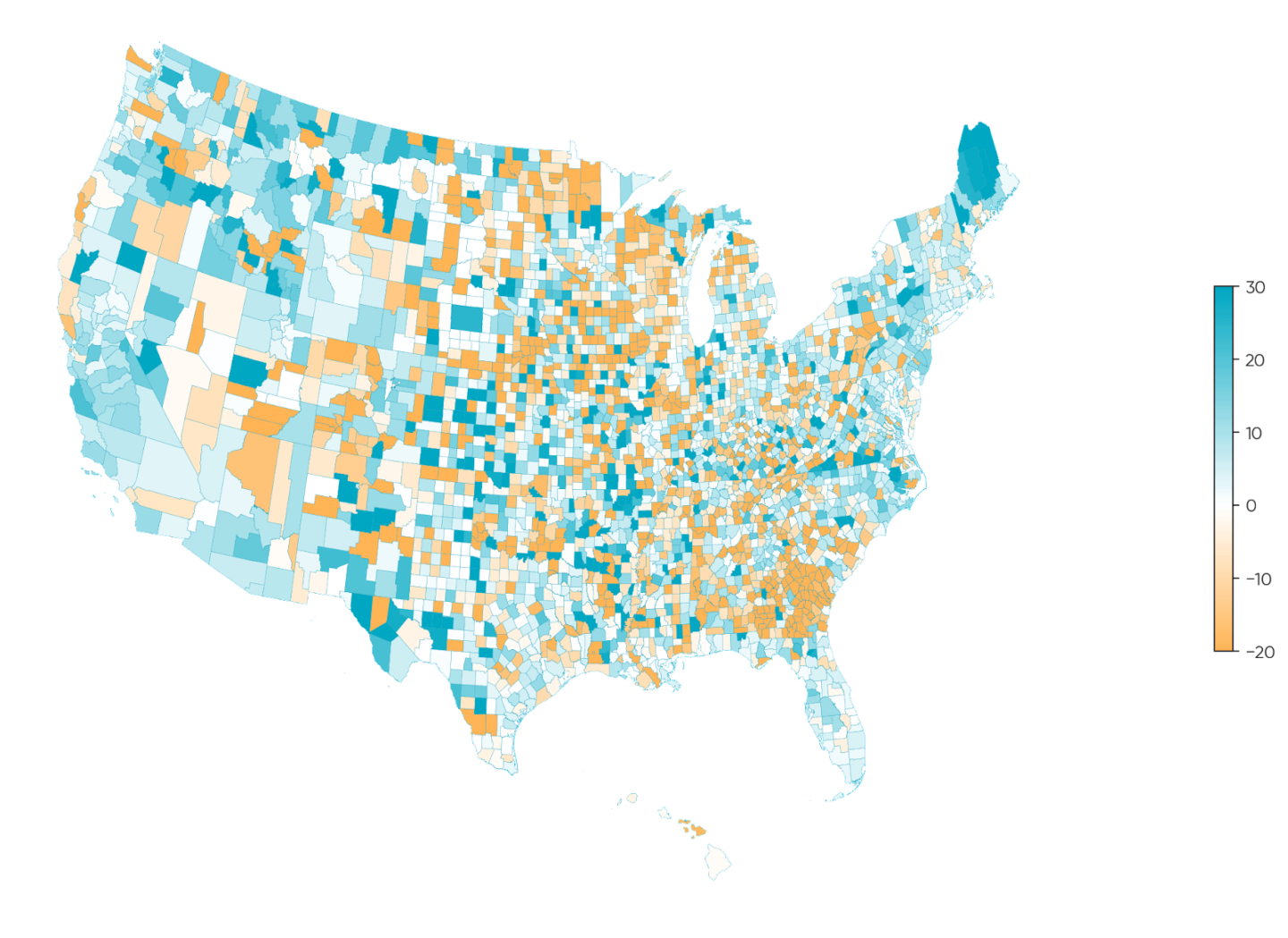 What does this mean? While wealth is still being accumulated in 2021, it's not happening at the same rate as in 2020. It's important to consider the following questions:
Who's spending or donating right now?
Who is the right prospect? How can nonprofits identify them?
Windfall also evaluated how relative wealth varies across states. Belonging to the top 1% differs greatly depending on where consumers live. For instance, if a prospect lives in New York, especially New York City, where there's already a lot of accumulated wealth, they must be worth at least $4.2 million to belong. However, if they live in Idaho, they only need to be worth $1.4 million to be part of the top 1%. Location really impacts whether individuals have disposable wealth to donate. Nonprofits may want to target individuals worth at least $5 million in New York City, but if they look to the midwest, prospects don't need to have that amount to have the wealth to donate at a certain level.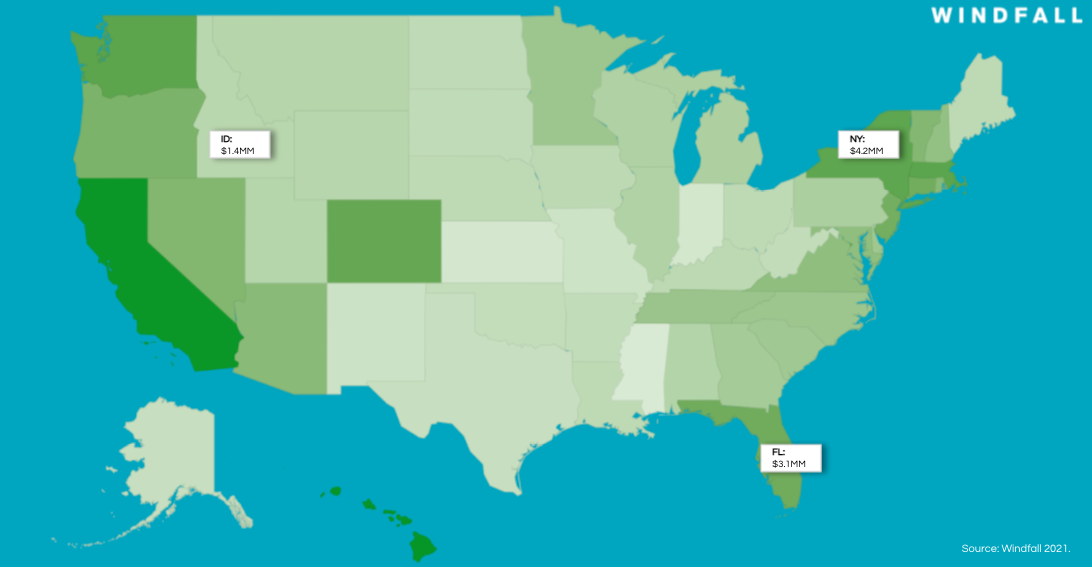 Lastly, we analyzed multi-property ownership over the last 16 months. While many affluent households moved out of cities like New York during the pandemic, our thesis was that many of these were likely multi-property owners who moved to the suburbs and that they would likely move back once the pandemic had subsided. Currently, we're seeing that trend happening.
Additionally, we're seeing high-net-worth households increase their footprint through multiple property ownership. More than 38% of these households own two or more properties. This means that cultivating relationships with high-value prospects will become more complex given geographic distribution. Nonprofits may have to answer some serious geographic questions. For instance, is this the donor's primary residence? Or is it a vacation home or rental property?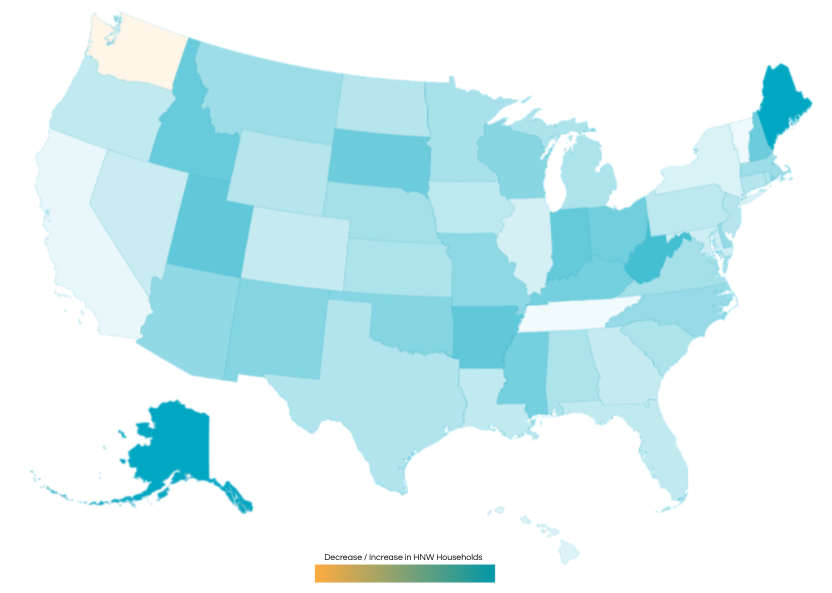 These trends demonstrate that, while there's plenty of wealth to tap into, nonprofits will find it challenging to easily identify and engage the right affluent donors. It's vital for nonprofits to understand the context around their constituent data so they can better prioritize their constituents and streamline operations.
Building an Engagement Framework for High-Net-Worth Individuals
In response to these challenges, Windfall has created a five-step process to help you build a data-driven framework for identifying and engaging with affluent constituents who are likely to donate to your cause:
Establish a foundation of trustworthy data
Augment with deeper intelligence and insights
Leverage AI to drive strategic processes
Take action on your data across your organization
Analyze, measure results, and iterate
Step 1: Establish a Foundation of Trustworthy Data
Windfall has noticed that nonprofits with several disparate databases experience issues where their constituent data is split up or even duplicated across these different systems. With this setup, it's difficult to unify records and get that 360-degree view on prospects.
Instead, we suggest that you leverage a system, such as Windfall's Data Link, to unify your constituent data across these databases and enrich it with external data from your wealth screening vendor for a more sophisticated and unified outreach strategy. Remember that this is not a one-time exercise. Make sure to repeat this process weekly or monthly to ensure that your data-driven programs remain effective and up-to-date.
Step 2: Augment with Deeper Intelligence and Insights
Once the foundation of data has been established, the next step is to build a holistic view of your constituents by leveraging insights from both your internal dataset and precise net worth data from your wealth screening service. This holistic view should include attributes that cover constituents' experience, engagement, wealth, and likelihood to give. Make sure to sync your data with your wealth screening vendor on a regular basis to capture the most up-to-date wealth insights.
It's also important to review past performance data to set up realistic expectations. For instance, you can analyze your historical ability to generate larger gift sizes from more affluent wealth profiles. Or, you can measure affluent donor penetration to estimate untapped opportunities.
Donation Distribution by Wealth Bin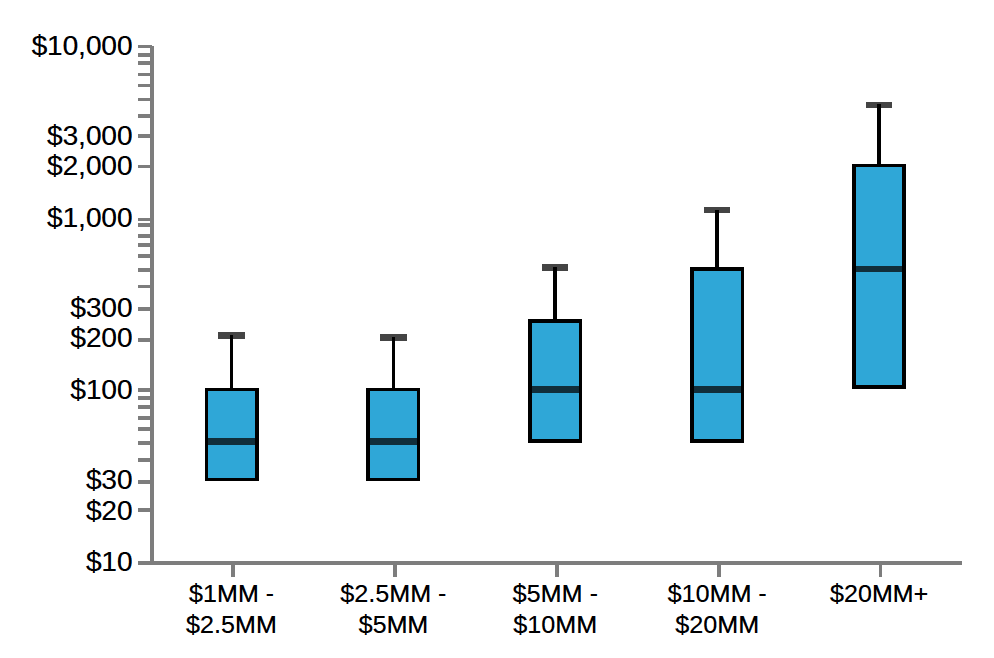 Step 3: Leverage AI to Drive Strategic Processes
Wealth screening will tell you who qualifies for your program, but it won't indicate propensity. Machine learning will help you take that next step beyond qualification, leveraging both internal data and wealth screening intelligence to ultimately predict who is most likely to donate to your cause.
To effectively identify the best prospects, the model should not be an out-of-the-box solution. Instead, it should be customized for both your organization and goal. Windfall's Propensity to Give Model is customized for your organization, indicating via a 0-99 score how likely it is for an individual to give to your organization. These scores will be updated regularly as new data comes through to ensure the model stays current and up-to-date.
Step 4: Take Action across Your Organization
In order for your data-driven program to succeed, make sure to roll out improvements in a phased approach.
Build Consensus: It's very important for your stakeholders to gain confidence in the data and machine learning algorithms.
Establish Trust: Showcase to frontline stakeholders how the process would improve with machine learning through visualizations and backtesting.
Implement Programs: Implement programs that leverage this data intelligence.

Facilitate better portfolio allocation for major gift officers.
Run direct mail campaigns to encourage initial donations.
Implement automated workflows to engage with prospects at the right time.

Orchestrate Enhancements: Enhance other strategies with predictive models.

Segment mid-level prospects from major gift prospects
Identify recurring donors for annual funds
Reactivate dormant donors
Improve responsiveness to direct mail campaigns
Refine planned giving programs
Step 5: Analyze, Measure Results, and Iterate
Data-driven approaches should be measured from start to finish. Evaluate the impact of your programs by looking at average donations and comparing them to historical benchmarks. Additionally, make sure to establish realistic monthly and quarterly objectives and work to highlight them with your organization. Lastly, you can visualize KPIs and build dashboards to help everyone to understand the success metrics and gain confidence in machine learning models.
It's also important to approach your modeling efforts as a continual learning exercise to maximize the impact of machine learning strategies. So, even after your data-driven program is established, make sure to regularly analyze and measure results.
Monitor ongoing data flows and resolve data unification issues.
Take advantage of new data, refine your KPIs, and implement feedback loops for end users.
Provide ongoing training throughout the post-transition period.
Customer Example: Environmental Nonprofit
Windfall is excited to demonstrate how an environment nonprofit successfully applied this framework and drove amazing KPIs. This customer had been working with Windfall for a couple of years and had achieved a portion of our engagement framework; they had established a trustworthy data foundation and had applied deeper insights with Windfall's wealth screening product. However, while they were able to qualify new constituents, they weren't sure who to prioritize and engage.
So, this nonprofit completed the framework by leveraging our machine learning modeling, applying it to their direct mail campaigns, and regularly iterating on this process. As a direct result of these best practices, they have seen amazing results with their campaigns:
A 210% increase in gift size
A 3X lift on both their response rate and donations
A 10X ROI on their 3-year contract
Conclusion
The pandemic and its unsteady recovery continue to impact US markets and consumer wealth. While markets like luxury, hospitality, and finance, have been seriously affected by the pandemic, they are well on their way to recovery. Furthermore, the affluent population has continued to grow in both size and wealth over these past 16 months.
Nonprofit organizations have a unique opportunity to tap into this increasingly wealthy population, but we've demonstrated that wealth fluctuates not just across time but also across regions. It's critical to implement a true data-driven engagement framework to successfully identify who and where your high-value prospects are so you can maximize your fundraising efforts for the rest of 2021.
---
Interested in learning how Windfall's can help you identify, segment, and engage with your most affluent donors and prospects?